Horizontal Flow Wrap Machine (Model Polo)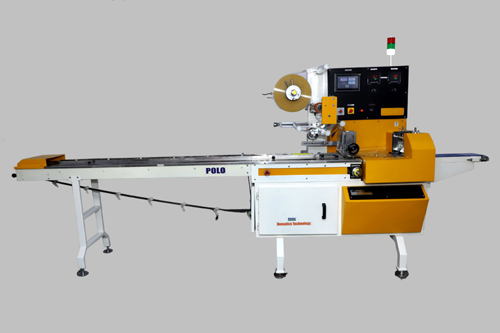 Model : POLO
PLC Base Servo System
Most Innovative Features Compare With Others
Machine will work on different pouch sizes (i.e. Minimum pouch length 90 mm to Maximum pouch length 250 mm) without any gear changes or any mechanical adjustment.
Specification
The working parts of the machine coming in contact with the product and packing material will be stainless steel 304. Frame, mounting table & side covers are in CRC with powder coated.
Foil Feeding arrangement.
Adjustable foil folding unit.
Foil Angle setting arm.
Product feeding conveyor having 3 miters (9 feet) long with food grade nylon lugs (pushers).
Mechanical clutch for products center setting.
Slow-Fast unit for fine sealing & cutting.
Center sealing (longitudinal) unit operated by Servo Motor.
Cross sealer unit with sealing jaws mounted on common shaft and heater block carrying zig-zag knives.
Drive: Gear motor - 1HP, 3ph AC motor.
Machine speed: The machine speed will have up to the 60 - 100 packs/min.

Electrical Control panel consisting of :
Micro Base Controller PLC
7" Touch Screen HMI
Digital Scanner for eye mark correction.
AC Servo Motor with Servo Drive.
Encoder.
2 nos. PID temperature controller –digital type.
Main Switch. (MCB).
Delta VFD (1ph to 3ph)
SSR for start for motor and heater.
Technical Details
Product to be filled
This model is suitable for packing various solid products having fixed shape and carrying edge single or piled together namely cake, Bread, Biscuits, Candies, Sweets, Maggi, Meat and fish pieces, ice candy bars, cheese slabs, fruits, wet wipes, soap, detergent cake, scrubber pads, bearings, hardware items, files, tablet strips, tubes, sachets, small leaflets, tazo, cards, tattoos, mosquito coils, bars, chikki, deodorant cakes etc…
Printed packing roll
This model is suitable for either without printed packing material or continuous printed packing material with photocell mark
Description of Machine
This machine is Horizontal Form Fill Seal Machine suitable to pack single piece or pack of multiple pieces piled fit on each other. Feeding system is pawl chain conveyer where operator will keep one product manually. Auto feeding systems can be fitted on this machine(optional)
The film is drawn by two pairs of rollers and the same also seal the film at the bottom at the same time. Sealing system is a continuous heating system. Dish Type Heaters fitted in the desired size metal heaters and the heating is controlled by temperature controller.
At the folding box packing roll formed in a shape of tube and product is inserted in this tube by feeding conveyer. Product is wrapped by the packing material and carried up to the horizontal sealers.
A pair of horizontal sealer then seals and cut the pouch. Packed pouches will come out on out feed conveyer.
Main features

Trouble free operations
User friendly for operations
Changeover from one part to other is very easy
Independent PID temperature controllers for sealing and cutting

System
Micro Based PLC Controller with Servo System
Machine output
Machine Speed up to 60 - 150 packs per minute depending on gravity flow properties of the product and accuracy of filling
Film Width
Maximum 350 mm open width
Film roll diameter
Maximum 300 mm OD, 75 mm core ID
Pouch width
Maximum 80 mm
Pouch length
Minimum 60 mm to Maximum 200 mm
Product height
Maximum 50 mm
Packing Material
Machine is designed for most types of Heat Sealable Laminate up to maximum of 60 macron gauges.
Machine control
Simple electrical panel with PID type temperature controllers
Main drive
Complete mechanical base machine all sealing, cutting and feeding system synchronized by gears and chain drives interlocked with each other.
Electrical Data
Power supply: Single Phase 230V AC,
Power Consumption : 0.7 KW.
Motor Drive
1 HP, 230V AC, 50 Hz, 3 phase AC. Operating by 1ph to 3ph VFD
Heaters
150 Watt X 2 heaters for vertical sealing and 200 watt X 2 heaters for horizontal sealing-cutting
Temperature controller
PID controller
Machine size
144" X 30" X 58" (L X W X H)
Net Weight of machine
500 Kilogram.
Terms and Conditions
Delivery
Ex-works in unpack condition.
4 weeks from the date of receipt of your firm order with 50% advance payment.
The Delivery period is given in all good faith and the same should be considered, as without guarantee and /or penalty though we shall do our utmost to
execute the order in the stipulated time.
Inspection
The machine will be compulsory tested thoroughly at our work place before dispatch
Guarantee
The above shall be guaranteed for a period of 12 (twelve) months from the date of supply against substandard workmanship and / or materials of our supply. This guarantee does not cover any electrical and electronics items.
Validity of Quotation
30 days, after which we reserve the right to increase the price to cover increased cost. If order cancelled by your end, 10% amount of machine basic price will be deducted.